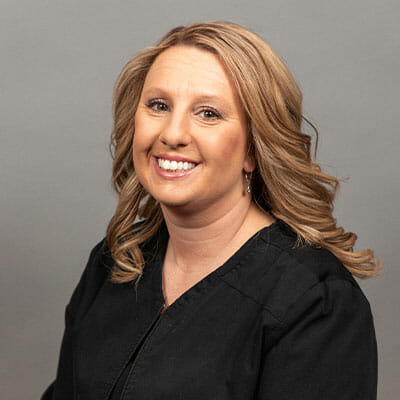 As expanded function dental assist, Sasha places composite and amalgam restorations, assists Dr. Pinson with patients, and takes X-rays and dental impressions. Her favorite task is restoring anterior teeth with crowns or composite restorations because "you can see the happiness in their new smile."
Sasha enjoys getting to visit with patients and hearing all the new exciting things going on in each one of their lives. She loves the relationships she and all her coworkers at Leslie C. Pinson, DDS have formed over the years.
On the weekends, Sasha enjoys spending time with her husband and children, helping her children with their 4-H animals, and frequenting local coffee shops. She also coaches youth cheerleading and serves as the Cheer Coordinator on the board. Her perfect weekend would be spent enjoying warm weather and a bonfire with her closest friends and family.