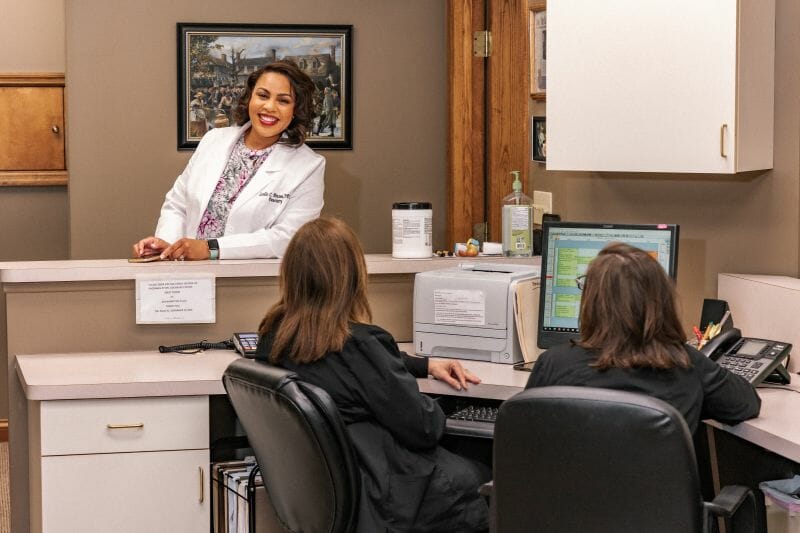 Welcome to Dr. Pinson's dental family! Many of our patients have been visiting our practice for decades, and we hope to see you for years to come. Know that we will always greet you warmly, listen to your concerns and oral health goals – and take excellent care of your smile. 
What Can You Expect on Your First Visit?
Dr. Pinson and the entire staff are available to answer your dental health questions and get to know your needs better. During your first visit, we'll introduce ourselves and become familiar with your health and dental history. Please make us aware of any ongoing dental concerns or medical issues that impact the dental care you'll receive from us. If you are allergic to any medicines or latex, if you are undergoing cancer treatment or take medications that may interfere with medications you may take before or after a dental treatment, let us know.
Is This Your Child's First Dental Visit?
We are honored and delighted when we find out a child's first appointment in our practice is his or her first time visiting a dentist. Our welcoming atmosphere is designed to comfort patients of all ages. Regular dental visits that start when a child is just beginning to build an oral care routine is a formula for healthy habits for life.
X-Rays and Imaging with an Intraoral Camera
To get a good sense of the health of your teeth, gums, and jawbone structure, we'll take X-rays at your first appointment. We'll also use what's called an intraoral camera to get a view of your teeth and gums from the inside of your mouth. Getting the full picture of your oral health is part of how we provide comprehensive dental care – and it all starts at your first visit. 
If You're Visiting Us for an Emergency Dental Procedure
We know some dental procedures aren't always planned. That's why we try to make every first visit comfortable and welcoming, even if you're experiencing a dental emergency. Our dentist and staff can get up to speed quickly on your issues and dental history to take action and relieve pain. We are a full-service dental practice for all ages and you can trust us to help with an unexpected dental visit.
Insurance and Payment Policies
We accept dental insurance, including Delta Dental, Superior, Anthem 300 grid plus, and we also offer CareCredit. Ask us about discounts for seniors and members of the military. Please plan to provide insurance information before your appointment or bring it with you when you visit us. We can also help you navigate other payment options and financing plans if needed.
If you have any questions feel free to contact our office via phone, email, or schedule an appointment online.